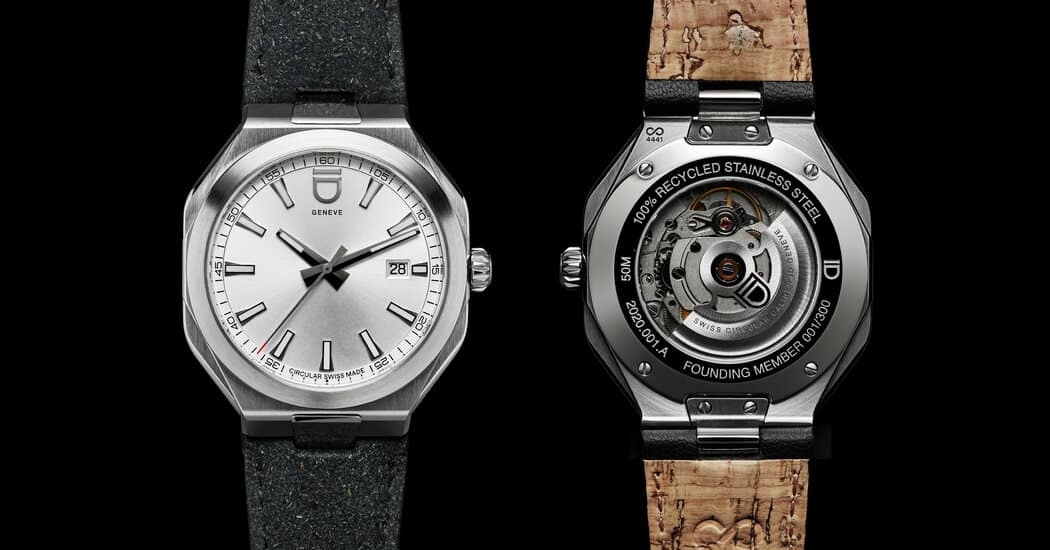 ID Genève was founded in 2020 on the principles of the circular economy, which encourages the use of recycled and reused materials in manufacturing.
Sustainability efforts such as carbon offsetting and straps made from recycled plastic may be all the rage in luxury watchmaking, but according to one Swiss start-up, they're not enough.
ID Genève, introduced in December 2020, was founded on the principles of the circular economy, which encourages the use of recycled and reused materials in manufacturing. (ID in the name, according to the brand, suggests a "new identity.")
Its watches have cases made of 100 percent recycled steel (including so-called solar steel, made by using the sun's rays and a convex mirror to create what is called a "solar furnace" that melts metal); refurbished ETA mechanical movements; and straps made of green waste, such as grape residue or rotten leaves. Watches are sold in what it calls "home compostable" packaging made of seaweed and mushrooms. Prices for its Circular collection start at $3,800; its Circular S model was released in November.
"Our mission is to create the most circular watch," said Nicolas Freudiger, one of the company's co-founders. "The idea of net zero? I'm not a big fan of it. We should do much more."
The brand's efforts now are being recognized. Last month, the Watches of Switzerland Group, one of the world's largest watch retailers with more than 170 stores in Britain and the United States, began stocking it — an achievement that Mr. Freudiger said should push sales to 1,000 watches this year from its 600 total in 2022.
"Many of the luxury watch brands we partner with are doing some great things in terms of sustainability," Eric Macaire, the group's executive director for global buying and merchandising, wrote in an email. "But ID Genève really are at the forefront of circular design."
Mr. Freudiger said he and his partners had identified an economic opportunity, and he may be right. According to Deloitte's most recent Swiss Watch Industry Study, watch buyers in China, the Swiss watch industry's second-largest export market, cite sustainability as the third most important factor in a watch purchase, behind brand and price.
In 2020, ID Genève's first round of fund-raising brought in 350,000 Swiss francs (about $380,400). This year, it raised an additional 500,000 francs, according to Mr. Freudiger, who said he expected to raise 1.7 million more francs over the next two years. In part, the funds are intended to support the brand's growth and eventually to help establish what he called an ID Lab to develop ecologically innovative materials that it intends to share with other Swiss watch companies. "We want to create new materials to replace mined gold and precious stones," he said.
But Mr. Freudiger, who described himself and his two co-founders as "kids of Swiss Made," said their ambitions ran even deeper. "How is the luxury industry not going to be perceived as the industry of inequality in the future?" he asked. "The climate emergency is a responsibility for the whole industry."