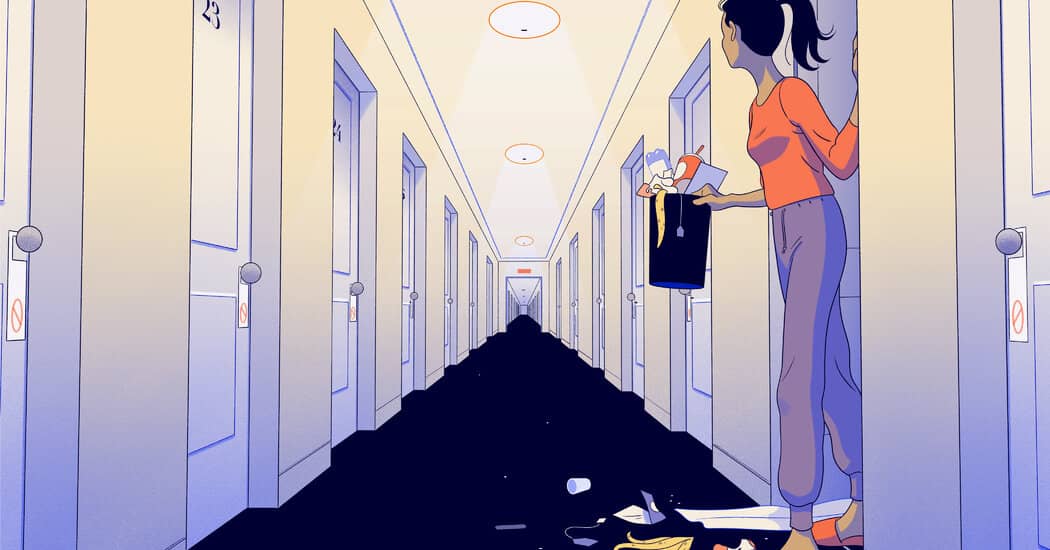 The pandemic put a pause on many hotels' guaranteed once-a-day cleanings. Now many of them are making the change permanent, even saying guests prefer it.
Stephanie VanDerSchie returned to her hotel room in Wausau, Wis., after a long day of skiing last month with her three young children to find their room disheveled.
Their sheets were untucked, their garbage can was overflowing, and their soggy towels were in limp piles on the damp bathroom floor.
Ms. VanDerSchie, 44, a high school teacher in River Forest, Ill., assumed that for the $200 a night she was paying, she'd at least get new towels and a quick room refresh daily, without having to make a special request during her three-night stay.
She was wrong.
"It seemed like a money-saving tactic," Ms. VanDerSchie said. "But the feeling of vacation is enhanced when someone else is looking after us a little, for sure."
A pandemic disruption, continued
In the early days of the pandemic, the daily cleaning of hotel rooms was among the many routines disrupted. Even people who dared to travel blanched at the idea of a stranger entering their rooms. Many hotels started cleaning only after guests checked out, even letting some lodgings sit empty for a day.
Now, with travel largely having rebounded, and with occupancy levels projected to reach 64 percent this year — just 2 percentage points shy of prepandemic levels, according to the American Hotel & Lodging Association, daily cleaning, like the five-day office workweek for many people and printed menus at restaurants, seems to have become a thing of the past.
Guests staying at midlevel hotels run by Hilton, Marriott, Sheraton, Walt Disney World Resorts or other major brands are finding that if they want complimentary daily housekeeping, they need to request it — or clean their own room.
"Cleaning surfaces and changing bedsheets during shorter stays is now quite rare," said Scott Keyes, the founder of Going (formerly Scott's Cheap Flights), a website detailing airfare deals. "Oftentimes, it's only offered during longer stays."
Marriott, which operates 30 hotel brands and more than 8,000 properties in 139 countries and territories, trumpeted the new normal during an investor call in February. It said that it was creating a tier system for housekeeping, in which those who paid more could expect a higher level of service. Its highest-end properties (like the Ritz-Carlton and St. Regis brands, where rooms run upward of $550 a night) would continue to provide free daily cleanings. At the next level (Sheraton, Le Méridien) guests would get a free "daily tidy." Guests at what it calls its "select-service" brands (Courtyard by Marriott, Four Points by Sheraton, Aloft and Moxy, among others) would get their rooms cleaned every other day.
At Hilton's brands, such as Conrad, DoubleTree and Embassy Suites, the housekeeping schedules vary, but the majority in the United States now offer opt-in service, meaning guests need to contact the front desk if they want a complimentary room cleaning. "Recognizing some guests may have varying levels of comfort with someone entering their rooms after they have checked in, Hilton offers them the choice and control to request the housekeeping services they desire," said Kent Landers, a Hilton spokesman.
Independent hotels don't appear to be any different. The majority have also switched to an opt-in method as the pandemic has waned to reduce health risks and as a cost-cutting measure, said Benjamin Verot, a co-founder of HotelMinder, a Dublin company that offers consulting services to mostly independent hotels.
Rewards for skipping fresh towels
Cutting back on housekeeping is not new. For years, guests at all hotel levels have encountered notes in the bathroom selling the idea of forgoing fresh towels as a choice for sustainability and suggesting that they leave used towels on the floor only if they needed to be laundered. Hotels also used to incentivize guests to skip daily housekeeping by offering bonus loyalty points or food and beverage credits.
John Ollila, the founder of the blog LoyaltyLobby, which covers travel rewards, and a digital nomad who just celebrated his 20th anniversary of living out of hotels — the majority of them belonging to Hilton, Hyatt, Marriott and Accor (a French hospitality company) — said there hadn't been a housekeeping change in the luxury segment, though they've taken away most of the perks for those who decide to skip it.
"The point that I have tried to make the past couple of years is, why would you stay at a full service hotel if they strip away all the benefits?" Mr. Ollila said.
Marriott, Hyatt and Disney, among other big hotel operators, did not respond when asked why they were revising their guest room cleaning policies.
But Bjorn Hanson, a hospitality and travel specialist and an adjunct professor at the New York University Tisch Center of Hospitality, said there were four primary reasons for the reduced services: cost, staffing, the perception of environmental impact and guest privacy preferences.
The average cost of providing daily guest room housekeeping includes 30 minutes for room attendants plus the cost of cleaning supplies and laundering linens and towels, Mr. Hanson said. But the savings achieved are less than anticipated because hourly wages have gone up as needed to attract and retain staff.
On the other hand, an increasing number of guests these days prefer not to be interrupted, or to have personal belongings touched by housekeeping staff, Mr. Hanson said.
A shift in guest preferences?
The trend, said Chekitan Dev, a professor at the Cornell University Nolan School of Hotel Administration, is the start of a shift in the way services are delivered at hotels, from an operations-focused approach, in which things happen on a schedule set by the hotel, to a more guest-friendly model, in which travelers' wishes drive the service.
Shifting to the guest-friendly approach "can lower complaints, increase satisfaction, decrease price sensitivity, increase intent to return and boost intent to refer," Dr. Dev said, explaining that the changes are a win-win since the guests who still want their rooms cleaned daily can request it — and those who don't will not be disturbed.
Dr. Dev expects that in the future, some hotels will even offer rooms at reduced rates if guests eschew housekeeping services — transforming housekeeping into almost an à la carte option.
In a February trip to Alexandria, Va., Dr. Dev and his wife stayed three nights at a Homewood Suites by Hilton, a midscale extended-stay hotel. At check-in, he was asked when and how often he wanted housekeeping; the couple chose to keep their "Do Not Disturb" sign on the door for the entire stay. They called the front desk for additional towels, toilet paper and tissues.
"The hotel's expense on housekeeping for our stay was way lower than it otherwise would have been, and we were delighted with the service," Dr. Dev said.
Some guests aren't so pleased with the changes.
"What gets me is the annoyance of having to work to get services that used to be standard," said Terry Stanton, a medical writer in Oak Park, Ill. "And for God's sake, at least clear the garbage. I hate wandering the hallways carrying a basket with last night's food and cans and bottles, looking for the little room where they hide the garbage can, if it's even accessible."
Housekeeping unions fight back
Hotel unions see the move away from daily cleaning as a direct attack on their members' jobs. Ending daily housekeeping industrywide would eliminate up to 39 percent of all hotel housekeeping jobs in the United States, costing housekeepers about $5 billion in annual lost wages, according to a 2021 report by Unite Here, a labor union representing hotel workers. "Most hotels temporarily suspended daily housekeeping when Covid began," said D. Taylor, the international president of Unite Here in Las Vegas. "Hotel demand and room rates have rebounded now, but many hotels are trying to get back to full occupancy without restoring the services that guests expect and love."
In recognition of the unions' political power, dozens of cities including Atlanta, Boston, Denver, Honolulu, Houston, Las Vegas, Los Angeles, Miami and New York have passed agreements or legislation requiring hotels to offer daily housekeeping as the norm. And even these rules aren't always honored: In January 2022, guest room attendants who belong to the Culinary Workers Union rallied in Las Vegas after reports that daily cleaning protocols weren't being followed.
Still, hotels lost about $108 billion in business travel revenue in 2020 and 2021, when the pandemic largely shut down travel, according to a 2022 report released by the American Hotel & Lodging Association and Kalibri Labs, a company that evaluates and predicts hotel industry performance. And a June 2022 survey of 500 members of the A.H.L.A. found that 97 percent were experiencing staffing shortages. More than half, or 58 percent, said their most serious staffing shortage was housekeeping.
The housekeepers, meanwhile, are suffering from lost wages and tips and a more grueling assignment when they're actually on duty.
Elena Newman, who has been a guest room attendant in Las Vegas for 19 years, said hotel managers may believe they're saving money by cutting down on cleaning, but it's not the case.
When rooms aren't cleaned daily, the work becomes more time-consuming, Ms. Newman said, explaining that while her hotel does honor the daily cleaning rule, guests sometimes pop the "Do Not Disturb" sign on their doors.
"There is soap scum buildup in the bathroom, lots of trash in the room, and it takes a lot longer to clean and vacuum the rooms," she said. "It gives me a lot of stress because I get behind on my work."
There are a few people, however, who don't seem to mind dwindling housekeeping services.
Trevor Stricker, a co-founder and the vice president for technology at Mightier, a video game platform in Boston, who describes himself as "not so much of a snob," said he managed at home without daily fresh towels, and didn't need them in his hotel room.
"I'm more nervous about a random person messing with the inevitable stack of phones, laptops and tablets with fiddly chargers leaving them not charging," Mr. Stricker said. "The worst case is something not charged for a demo."
So he regularly puts his "Do Not Disturb" sign on his door. Although, it appears, no one is itching to disturb him anyway.