Mass timber, an engineered wood product that offers durability and sustainability benefits, has become increasingly prominent at colleges across the country, where it is included not only as a concept in the curriculum but also as a material in campus buildings.
Experts say universities are helping to increase awareness of mass timber — layers of wood bonded with glue or nails — by demonstrating its potential as a low-carbon alternative to steel and concrete.
"Our college and university clients have really embraced the imperatives of climate change," said Ellen Belknap, president of SMRT Architects and Engineers in Portland, Maine. "I'm thrilled that universities are showing the way."
But significant barriers impede widespread use of mass timber: Suppliers are mostly limited to Canada and the Pacific Northwest, and the upfront costs are higher than for steel and concrete. Despite those challenges, developers are finding that mass timber goes up more quickly, helping them recover upfront costs faster.
"The building goes up a little bit like an Erector Set," said Sandra Lupien, the director of MassTimber@MSU, an education and outreach program at Michigan State University.
Liam O'Brien, a 23-year-old graduate student at the University of Maine, is part of a team trying to develop a cross-laminated timber panel insulated with wood fiber. Such insulation could be made with the waste from timber processing and, if put into prefabricated panels at a factory, further reduce construction time and costs.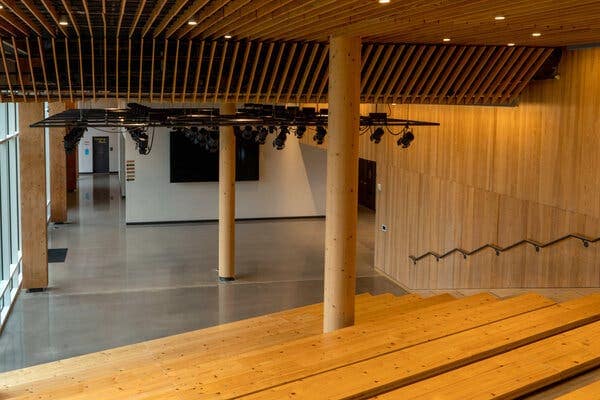 Originally a forestry major, Mr. O'Brien said, he switched to wood science as he became fascinated with the carbon-reducing potential of cross-laminated timber panels, which consist of several layers of boards stacked in alternating directions and bonded with adhesives.
"It is a material that should take off in the U.S. as long as we can convince people," Mr. O'Brien said. "Building sciences can play a large role in how we respond to climate change."
Long used in Europe, cross-laminated panels are so strong they are suitable for walls, roofs and flooring. And they have a number of other benefits: They capture carbon, keeping it out of the atmosphere; they are more sustainable than other construction materials, like steel and concrete; and they are exposed, adding aesthetic appeal.
Mass timber construction has picked up in the United States over the last few years, and universities have been a driving force. Most of the activity is in heavily forested states, including Arkansas, Idaho, Maine, Michigan, Oregon and South Carolina, where widespread use of the material could help expand or revitalize the forest industry.
The University of Arkansas is among those at the forefront. "We are almost a pilgrimage site for a lot of people," said Peter B. MacKeith, the dean of the university's Fay Jones School of Architecture and Design, who added that he helped persuade campus leaders of the benefits of mass timber. The Fayetteville campus now has two buildings showcasing the material and a third on the way.
By using mass timber in a library storage annex, completed in 2018, the university saved more than $1 million over the original steel-and-concrete plan, Mr. MacKeith said. He added, "That's when people start to sit up and say, 'Well, maybe we should at least be looking at this as an alternative form of construction.'"
Adohi Hall, a 200,000-square-foot residence hall constructed with mass timber, opened in 2019. It consists of two five-story buildings connected by a common area.
"It's this rather premium set of spaces — there's a warmth to it, visually and atmospherically, that the students very much appreciate," Mr. MacKeith said. "And commercial developers come to look at it. It's analogous to multifamily housing."
Soon, the university will break ground on the $33.5 million Anthony Timberlands Center for Design and Materials Innovation, which was designed by Grafton Architects. It will house the school's graduate program in timber and wood design (among other programs), and enable students to build large-scale mass timber prototypes, with a focus on affordable housing and new construction technologies.
"These buildings are proof of concept in terms of time efficiency, cost savings and a safer construction site," Mr. MacKeith said.
Michigan State University built that state's first mass timber building: the STEM Teaching and Learning Facility, which was adapted from an old power plant and incorporates cross-laminated panels in the framing, floors and ceilings. The building has become a magnet for industry professionals, about 1,000 of whom have toured it since it opened last year, said George H. Berghorn, an assistant professor of construction management at the university's School of Planning, Design and Construction.
"It's just a gorgeous building," he said. "A lot of students just go over there to study even if they don't have a class there."
But a lack of knowledge remains a barrier to mass timber's wider adoption, Mr. Berghorn said. To that end, the university recently received a $650,000 grant from the National Science Foundation, an independent federal agency that finances science research, to develop a national model for a mass timber design and construction curriculum for architecture, engineering and construction programs.
Clemson University in South Carolina was given a $1.1 million grant from the Department of Energy to help expand the use of mass timber. Researchers there are developing a floor system made of cross-laminated timber panels that can span about 40 feet, double the current industry practice. They are also looking at ways to dovetail the system with other building components, such as duct work and electrical conduits.
Such an all-in-one system would reduce the need for as many structural beams and potentially speed up construction, said Dustin Albright, assistant director of the university's School of Architecture.
"We want to come up with an all-in-one approach to the floor system that allows the flexibility to get in and access those components, but do it in a way that's all timber," he said.
Clemson has two mass-timber buildings on its main campus: the Samuel J. Cadden Chapel and the Andy Quattlebaum Outdoor Education Center, which uses Southern yellow pine. Researchers have installed wireless moisture and vibration sensors at the recreation center, completed in 2020, to gather data on the building's long-term performance.
Various universities are researching the viability of local manufacturing. Michigan State is tracking demand for mass timber, and analyzing what the full supply chain might look like, in the interest of providing that information to prospective manufacturers, Ms. Lupien said.
At the University of Maine, landowners, architects, lumber manufacturers and construction companies share information through the Maine Mass Timber Commercialization Center, in hopes of eventually making the business case for manufacturing cross-laminated timber.
"What we're trying to do is reduce any technical barriers or questions that a company might have before setting up a manufacturing operation here," said Stephen Shaler, professor of sustainable materials and technology at the university's School of Forest Resources. Working with an industry partner, the university has successfully qualified cross-laminated timber made of Maine timber for construction.
But Ms. Belknap, the architect, thinks demand will have to increase substantially before it will make good business sense to open up a local production plant.
"When Boston, New York, Philly and D.C. are building in tall timber," she said, "then it will make economic sense to stand up a manufacturing facility."