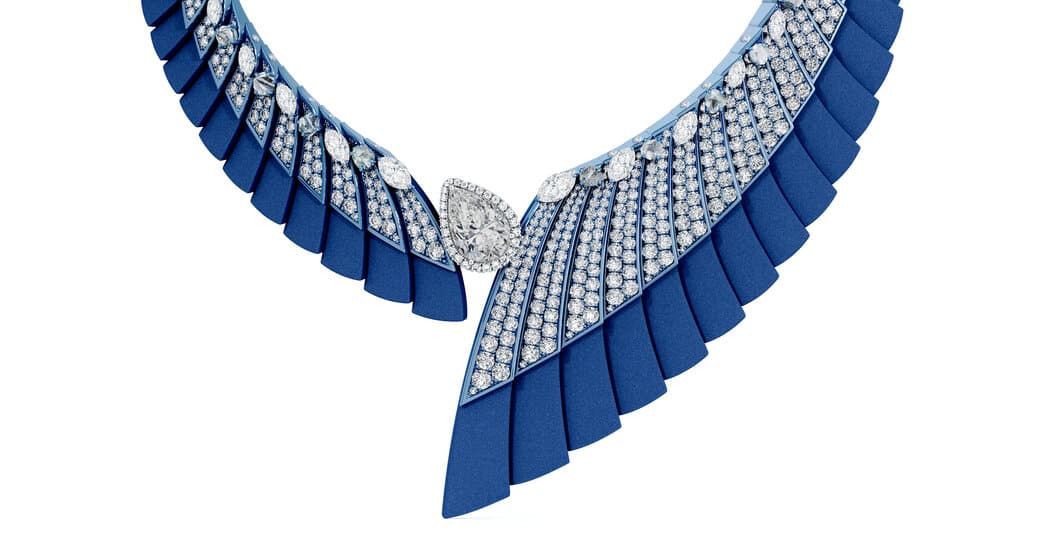 Jewelers and artisans have been experimenting with the metal, attracted by its unusual appearance and sustainability.
Aluminum is the most abundant metal on earth. So why would a fine-jewelry designer choose to work with it rather than gold or platinum, which are far more precious?
Some recent creations suggest that one of the reasons is the rainbow of colors that is produced when it is anodized — the spontaneous, natural result of immersing the metal in an alkaline solution and then introducing an electric current.
"Another important aspect is that aluminum is a highly sustainable material, as it is easily recyclable," Elisabetta Cipriani, whose gallery in London represents several jewelry artists who work with it, wrote in an email.
In India, the Mumbai-based jeweler Estaa melted two soda cans to create the prototypes for its 2021 collection, called Neel, which has colorful marine-life motifs crafted in aluminum and diamonds ($2,000 to $5,000). "Now we source our aluminum — recycled from aircrafts, automobiles, cookware and computers — from local scrap dealers," the brand's co-founder and managing director, Pratik Shah, wrote in an email.
Even the luxury sector of the jewelry industry has been embracing aluminum, as it presents an opportunity to experiment with volume and scale, according to Céline Assimon, chief executive of De Beers Jewelers.
A central component of the high jewelry collection that De Beers debuted last summer at $40,000 to $6.4 million, "aluminum is a durable metal that is strong yet light in weight," she wrote in an email. "Had we used only gold instead of aluminum to support the multiple diamond settings, the pieces would have been far too heavy to wear."
The Monaco-based designer Sarah Ho, whose creations sell for 3,000 pounds to 170,000 pounds ($3,655 to $207,000), now has several pieces made with an aluminum alloy on display in "The Joy of Color," an exhibition on view through May 10 at the Shenzhen Jewelry Museum in China.
In recent years, she worked with specialists in Valenza, Italy, to develop the alloy: mixing a small amount of titanium into the aluminum to strengthen the metal. "As a high-jewelry brand, we work with very precious gemstones," she said, "so I was a bit concerned about setting them in aluminum on their own."
Aluminum usually arrives in a designer's workshop in block, bar or sheet form; from there, a metalsmith carves or sculpts the material into components that are then anodized to achieve the color effects.
Considering that aluminum jewelry uses the same material found in everything from lacrosse sticks to kitchen foil, it is surprising to realize that when aluminum was first discovered in the 19th century, "it was very precious, much more expensive than silver and gold, and it was really hard to come by," said Bella Neyman, a jewelry historian and a co-founder of New York City Jewelry Week.
In fact, aluminum was considered so precious that in 1884, the engineers of the Washington Monument elected to use it for the small decorative pyramid at its tip. Tiffany & Company even put the pyramid on display in New York so that the public could admire it before its installation.
An object made with aluminum may not draw crowds now, but it might fetch seven figures at auction. Ms. Neyman said she was working as an intern at Sotheby's New York in 2006 when an early version of the Lockheed Lounge, the chaise longue by the Australian artist Marc Newson, sold for almost a million dollars. "At the time," she said, "it set an auction record for a work by a living designer."
In 2015, another edition of the piece sold for $3.7 million at a Phillips auction in London.
Scrap aluminum typically costs less than $1.50 a pound (while gold was trading at slightly more than $1,975 per ounce on March 20). But the jewelers who work with aluminum say collectors perceive value in the design innovation over the material.
"Some may see it as irreverent, but the jewelry greats of our time, such as JAR and the late Daniel Brush have been incorporating aluminum into their designs for many years," Eva Violante, head of the jewelry department for the Americas at Phillips, wrote in an email. "The jewelry creations they imagined by juxtaposing precious gems with what we formerly knew as an industrial metal were fresh and unexpected."
Hemmerle, the Munich jeweler, also tends to come up in conversations about master practitioners of aluminum fine jewelry. It first used the metal in 2016 for the [AL] Project, 15 earrings and a brooch that took the forms of blossoms, ginkgo leaves and other botanicals.
"In nature, these colors have lots of different subtleties," said Christian Hemmerle, a director of the fourth-generation family business, "and we were able to achieve that with the aluminum. We got very excited. And so that's why we kept on using it."
Earlier this month, Hemmerle unveiled several new aluminum-forward jewels at the TEFAF Maastricht design fair in the Netherlands. "We started with nature inspirations and have found that aluminum also lends itself to more minimalist, architectural concepts," said Yasmin Hemmerle, Mr. Hemmerle's wife and collaborator, referring to a pair of earrings that use slate-blue aluminum detailed with a graphic woven texture to frame pink tourmalines.
Jewelers such as Emmanuel Tarpin in Paris, Taffin in New York and Sabbadini in Milan also have incorporated aluminum into recent introductions, perhaps influenced by the world of interiors and home décor.
According to Chay Costello, associate director of merchandising at the Museum of Modern Art's design store in New York City, "Today, we see designers adding color to aluminum designs to achieve a more decorative effect beyond aluminum's traditionally functional role," she wrote in an email, citing the Z-Bar mini desk lamp by Peter Ng ($333) and Verner Panton's Panthella mini portable lamp ($394) as examples. "These colorizations may be in part inspired by the way Apple transforms the functional iPhone to a statement piece with colored metals."
The Swiss designer Cora Sheibani said the aluminum production process in her most recent collection, Pottering Around (£1,600 to £58,000), reminded her of gardening. Each ring depicts a potted plant in miniature, with leaves made in gleaming colored aluminum.
Getting the metal to manifest the ideal hue involved significant trial and error, she said, adding, "At some point, I thought, well, I've just got to let go and not demand perfection."
Ms. Sheibani said her clients had been enthusiastic about the collection's use of aluminum. "People who want something new and different don't want to buy things that are obviously expensive to the world," she said. "So, in that way, aluminum can make a piece of fine jewelry more discreet."
Ms. Ho described a similar response. "It's been one of happy surprise," she said. "My clients are very much into innovative techniques and materials so they're intrigued."
And if aluminum is the primary material used in the jewel? "It takes a lot of courage, as you're dealing with people's perception of what fine jewelry means," Mr. Shah at Estaa wrote.
But, he added, "Look at Alexander Calder's pieces, which are made from brass and sell for half a million at auction — it was never about the material."