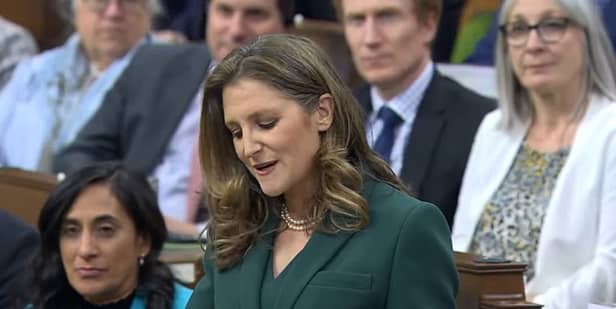 Canada unveiled its response to the emerging global race to scale up green energy and clean tech manufacturing capacity, with proposals for over $60 billion in tax credits and an additional $20 billion in sustainable infrastructure investments in its 2023 budget, presented by Deputy Prime Minister and Minister of Finance, Chrystia Freeland.
This year's budget comes as major global economies have unveiled plans to invest billions to pursue their goals to decarbonize their economies, and to capitalize on the opportunities to participate in the global transition to cleaner energy systems and industries.
The race kicked into high gear last year with the passage of the U.S.' Inflation Reduction Act (IRA), which allocated nearly US$370 billion through a series of tax credits, loans, grants and subsidies to areas including renewable energy and industrial decarbonization solutions. Earlier this year the European Commission responded with the launch of their Green Industrial Plan, aimed at enhancing the competitiveness of the Europe's net zero industries, followed up with initiatives including the Net-Zero Industry Act (NZIA), focused on the facilitation of clean technology industrial capabilities and capacity, and the European Critical Raw Materials Act, aimed at ensuring access to the raw materials necessary for the net zero, digital, aerospace and defense sectors.
While the budget acknowledges the opportunities created for Canada by the Inflation Reduction Act, arising from "the accelerated pace of technological development, and from new opportunities in North American supply chains for clean energy and technologies," the budget also point out the need for Canada to respond in order to remain competitive in the global transition, noting that:
"(W)ithout swift action, the sheer scale of U.S. incentives will undermine Canada's ability to attract the investments needed to establish Canada as a leader in the growing and highly competitive global clean economy.

"If Canada does not keep pace, we will be left behind."
The largest portion of the budget's energy transition-focused investments, representing over $25 billion through 2035, is made through the Clean Energy Investment Tax Credit. With the budget noting a need to expand electricity capacity by 2.2x – 3.4x through 2050 to meet anticipated demand growth, it proposes a 15% refundable tax credit for investments including non-emitting  electricity generation systems such as wind, solar, hydro and nuclear, as well as for abated natural gas-fired electricity generation subjected to an emissions intensity threshold, and for electricity storage systems and equipment for the transmission of electricity between provinces and territories.
Other major tax credit proposals in the budget include nearly $18 billion for investments in clean hydrogen production, more than $11 billion to support clean manufacturing technology across areas including the extraction processing, or recycling of critical minerals essential for clean technology supply chains, manufacturing of renewable energy, nuclear equipment, grid-scale energy storage equipment, and zero-emission vehicles, and over $500 million to expand the Carbon Capture, Utilization, and Storage Investment Tax Credit.
In addition to the tax credits, the budget also announces that the Canada Infrastructure Bank, a crown corporation which invests in revenue-generating infrastructure, will invest at least $10 billion in its Clean Energy priority area, which includes clean power, renewables, district energy, storage, interties, transmission, and another $10 billion in its Green Infrastructure priority area, encompassing energy efficient building retrofits, water, wastewater, carbon capture, utilization and storage, clean fuels, hydrogen, zero emission vehicle charging.
The post Canada Announces Over $80 Billion Clean Tech & Energy Investments to Compete with U.S. Inflation Reduction Act appeared first on ESG Today.